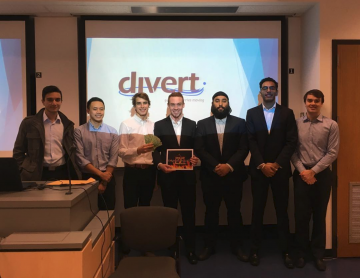 Aria Rezapour, Enoa Stueber, Harshmeet Kang, Jared Hughes, Kenneth Pacardo, Harjot Toor, Quinn Richardson Blueberry farmers currently use mechanical berry harvesters that are losing up to 20% of their total yield. This is equivalent to up to $30,000 per harvest. Divert is a solution that attaches onto existing harvesters to reduce their losses by at […]
Sebastian Cline, Pranav Menon, Emily Fitch, Karin Nyhus, Alan Albert Ross, Siddharth Ganapathy Smart Irrigation is a design project aiming to reduce maintenance costs and water consumption by providing an intelligent lawn health monitoring system for Golf Course Managers and Chief Operations Officers. Our line comes with two specific products, the Web-based User Interface and […]
The Aerodynamic Hardware team has designed and built a variable angle automotive spoiler that improves the handling of a car by producing aerodynamic down force on rear wheels.
Modern motorcyclists are faced with a tough decision while riding in warm climates: wear heavy, insulating protective gear and be uncomfortably warm, or risk personal safety and ride in lighter clothing. Cooling Motocyclist Jacket is a protective jacket that regulates its own temperature and keeps the rider at a comfortable temperature.
The Forksafe system is a retrofitable system which is designed to warn operators of forklifts of an impending tip-over, to permit them to react in time and stop the tip.
Spot Finder is able to transmit parking space availability to driver's mobile phone, allowing them to plan their trip prior to departure, or find the nearest, cheapest or most available parking at that moment.
Our remote door lock control device allows the user to securely and wirelessly communicate with their door lock using an Android smart phone.
The SafeShop system is an economically advantageous and non-destructive safety system that prevents operator injuries due to unintentional blade contact. This system is made up of a sensory and a blade retraction mechanism.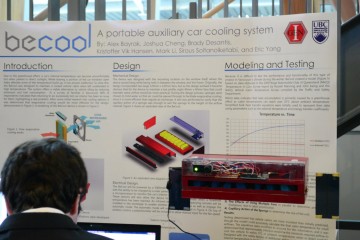 BeCool is the solution to keeping the interior of a vehicle cool while parked so you can return to your vehicle with a comfortable interior temperature.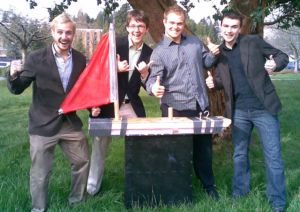 The competitive sailboat racing industry is constantly looking for innovative methods of increasing boat speed.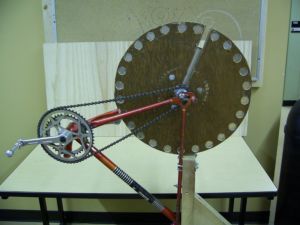 Design a small-scale generator system that converts human energy into electricity in order to power a light for working or reading, using materials that are typically available in developing countries.